In one generation, my family lost ties to Indigenous language, culture, and ways of knowing. I grew up being told that my grandpa was Cherokee and English (and possibly a mix of various Indigenous identities), but I had never considered what indigeneity and the traditions of my ancestors meant to me. In my college years, Espiritu Santo invited me into a significant season of claiming my Latinidad as a Euro-Mexicana. I thought I had come to the end of my ethnic identity journey. It was not until my late twenties that Creator would invite me into a series of sacred encounters that compelled me to embark on a deeper journey of decolonization and understanding my indigeneity. As I heard the pounding of drums and Native songs filling our worship hall, I began to cry con un llanto profundo (weeping deeply and profoundly). "Stolen lands, broken treaties, massacres, boarding schools, forced assimilation, and Indian reservations populate a partial list of not only sins but unspeakable crimes that have been perpetuated against Native peoples in the name of Christ".* I wondered about my grandfather and what kind of atrocities he must have endured to swallow his mother tongue and traditional ways of being. My ancestors beckoned me to know their names and stories.
The question I find myself asking today is: what is indigeneity, and what is my unique invitation as a mixed Indigena follower of Jesus? In my studies, I have learned that indigeneity has been inextricably bound to land and the Native body because the goal of colonialism has always been the seizure of Native land and the erasure of Indigenous bodies. The American story, my ancestral story, holds beauty and deep trauma. NAIITS scholar Julene Pommert humanizes this experience, sharing, "My experiences with bi-racial indigeneity are not unique. Many of us have lost our homes, our culture and values, our ancestors and elders, our language with our stories and instructions—and so see ourselves as mixed-race people who are outsiders". **
As an Indigena from both sides of the socially constructed United States border, the whole of my being knows there is far more to the meaning of indigeneity than land and boundaries. It still ignores the deeper social, spiritual, and ontological questions that the nature of indigeneity poses. If not solely in the land, can indigeneity be found in the Native body?
Indigeneity is also often reduced to the Native body, blood quantum, and phenotype. Native women have historically been hypersexualized, confined to stereotypical gender roles, and violated as tools of white conquest. Legislation like the Dawes Act and blood quantum laws (which sought to define who is "Indigenous enough") leave mixed-Indigenous peoples, such as myself, grasping for indigeneity through phenotype and paper trails. Yet, as a Mestiza Indigena of North America (the U.S. and Mexico), I am left with the longing for deeper roots and identities that move beyond binaries and Eurocentric definitions.
What might it look like for the Creator to call us to wade into the complexity of indigeneity? How might generations of Native Mestizos reclaim what cultural genocide and bodily erasure stole from our ancestors?
Creator invites us into an indigeneity that moves from measuring blood to embracing ancestral story, dualism to holistically listening to land and Spirit, and individual ownership to collective liberation. Colonialism horrifically erased the bodies and bloodlines of many ancestors, but the Spirit invites us into the remembrance of ancestral story, reading scripture in our mother tongues, and acculturation. As Indigenous believers, we must believe that the God of Abraham, Isaac, and Turtle Island is a God that not only intimately knows the depths of violence that colonialism inflicted upon our ancestors, but also has the power to graciously gift us with the depths of Indigenous beauty and liberation that hell can never take from us.
This year, wrestling with indigeneity brought me to the land on which my grandfather was birthed. Upon my arrival in Oklahoma, I felt the land embrace me. I also longed to find a physical document that would somehow make me feel Indigenous enough. Little did I know that the Creator would reveal my deeply colonized understanding of indigeneity and the expansiveness of His understanding.
"You're not from around here, are you?" I heard a voice call out.
After sharing my story, this soon-to-be friend invited me to an intertribal pow wow in the mountains, an event that only happens once a year. I sat in awe, marveling at the beauty of dance and communion on the lands where my great grandfather was buried. My heart held a depth of beauty and painful longing that I tucked away.
"Lord, I wish I had grown up with the sounds of singing and the beauty of regalia. I wish my little feet were taught how to dance to the rhythm of my ancestors' drums. One day, I want to learn."
A few hours later, I entered a raffle and won a beautiful handmade shawl! To my surprise, I was invited to the center of the circle and draped in regalia.
"Now, you can wear this to every pow wow. Today is your day to dance," a woman told me. It was as if the Creator was responding to my innermost longings.
I replied, in awe, "But I don't know the steps. I am not a citizen of a tribe."
"Follow my lead. I'll teach you what you need to know," she said with assurance.
Holding back tears, I began to follow the woman's lead. I danced with strength and conviction. I danced with joy. I danced before my Creator on the land that knew my ancestors. And in that moment, the colonial constructs of my perceived lack of indigeneity melted away. I am still digging, but my mind and heart are opening to receive the expansive gifts of indigeneity that go far beyond the dualistic lenses with which I was looking. This mujer mestiza, who is not defined by borders, trusts that Creator will bring Indigenous peoples into collective union and liberation on this side of heaven.
* Charles, Mark, and Soong-Chan Rah. Unsettling Truths. (Downers Grove: InterVarsity Press, 2019), 39.
** Pommert, Julene. 2021. "Longing For and Belonging in Community." Paper presented at NAIITS Symposium, June 2021.
Featured image: Photo by Kimi Lizotte.
---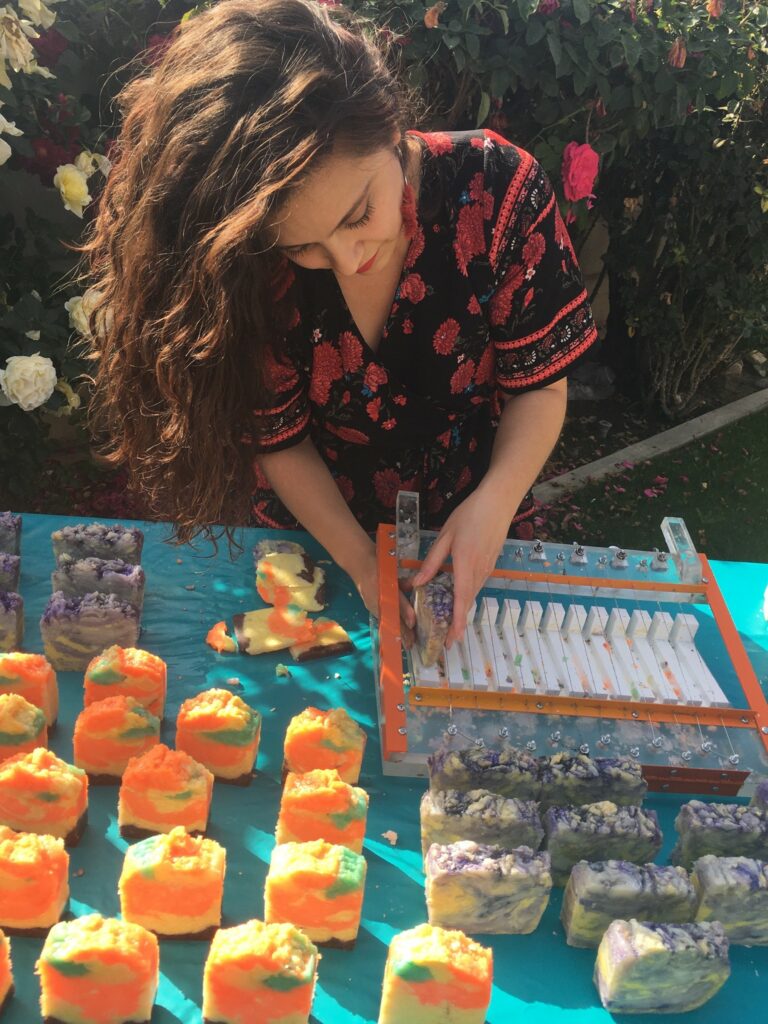 Christina Quintanilla | BloomWell Essentials
As I continue to journey, much of the lessons I am gleaning are incorporated through story and art into my handcrafted skincare, soap, and haircare. I founded BloomWell Essentials out of a desire for holistic health, connectedness to nature, and sustainable alternatives for friends and family. Each handcrafted item is meant to spark joy or tell a story. My "Abuelita Hot Chocolate" reminds me of savoring sweet moments with my Granny Rosie. My "Sweetgrass and Sage Soap" speaks of the beauty of incorporating ceremony into everyday routines. Each purchase not only gives a moment of deeper connection, but ten percent of every purchase goes towards justice initiatives. I'm also so grateful that BloomWell Essentials is funding my Masters of Divinity and ongoing decolonization journey with NAIITS (an Indigenous Learning Community).
As a gift to you and as a friend of Chasing Justice, I'd love to offer 10% off your next purchase until September 1 with the code: JUSTICIA
Click here to shop.
---
This entry is part of our blog series "Rooted: Elders, Ancestors, and Collective Memory". As BIPOC communities, our faith has been deeply formed by the experiences of our people. Our communities have developed ways of knowing and understanding God through suffering, lament, joy, and hope. Our stories, narratives, and faith practices developed over generations are rooted in context, cultural values, and the struggle for justice. Let's learn from one another and develop a collective memory that leads to a prophetic imagination.
The views and opinions expressed on the Chasing Justice Blog are those of the authors and do not necessarily reflect the official policy or position of Chasing Justice. Any content provided by our bloggers or authors are of their opinion and are not intended to malign any religion, ethnic group, club, organization, company, individual or anyone or anything.