Chasing Justice was imagined out of a desire to see a movement of justice led by people of color. A movement where all are welcomed but where the voices and narratives that are centered are those who have been most impacted by systems of injustice. A community where faith in Jesus, hope in God's goodness, and belief in the work of the spirit is foundational. 
This desire was not only ours, but yours as well. This movement is for all of us! It is for all who seek to love Jesus and live justly, and understand that it is necessary that emerging leaders of color are the ones who guide us into the future. We heard you and we are here!
This journey started when we, Mark Reddy and Sandra Maria Van Opstal, were working on mobilizing others to a lifestyle of justice through multiple organizations.  We realized that the living room, porch, and alley conversations we were having with our friends and justice partners of color around the world were so enriching and distinct from the conversations being led in predominantly white spaces. We realized there is another way.
This journey will be one of disrupting our thinking, discovering the beauty of justice, and displaying God's goodness in a world that is longing for renewal. What a gift to gather with Jesus followers from across a variety of backgrounds in order to develop a social imagination! What an honor to be connected to communities that are most impacted by injustice to learn from their courage! This journey will show us a better way to live – one that frees and inspires us to action.  Let's demystify what an activist and person of justice looks like – all of us can live justly.
As the co-founder of this movement, I believe the time is right for new communities to be imagined. As a college minister, urban pastor, and mother of sons who will have to navigate these systems of injustice, I dream of a better world for all. I am deconstructing, I am resisting. I am speaking truth to power. I am practicing proximity, hospitality and solidarity. And I am exhausted! I want to have be in a community that fuels my courage to continue dreaming. As Ugandan theologian Emmanuel Katongole has said "Inventing the future requires reshaping the present according to a vision of a future yet to be born."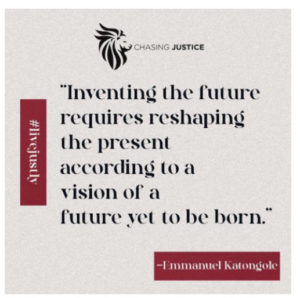 God is the one who enacts justice, but we can join when we chase justice together. Join us and see what it looks like to do your part in rebuilding a just world. It's liberating to let go of what we thought was important and live a life that's more beautiful and dangerous because we believe God is trustworthy. God WILL make things right. 
Will you join us on this journey towards a better way to live?