My name is Elia. I'm an early 80s millennial and an Indigenous Chicana. I grew up as a child of both the Brown Church and the Chicana/o movement. My parents are founders of the groundbreaking Chicana/o folk group, Flor del Pueblo. Their musical and art collective was born out of the nonviolent protests, rallies, Sermon on the Mount prayers, and sounds of La Huelga, the boycott movement of the UFW (United Farm Workers), which was founded by Cesar Chavez.
I have been blessed to experience the intricacies and the blurred lines of the Chicana experience. My inheritance from my Indigenous Chicana/o elders is that there is no separating the justice movement from our Christian theology or praxis. My mother's family, the Rodriguezes, were Baptist and Methodist, and my dad's family, the Garcias, were Catholic with some Methodist roots. But they came together in the same neighborhood with the same needs and some of the same cultural expression. Growing up in this environment at the tail end of the Chicana/o movement was significant to both my spiritual formation and my cultural identity. It was all wrapped up in one word: justicia. Justice.
My parents and grandparents would not have used the term intersectional, but that term represents exactly what was going on.
To lend some context to the significance of the time period and location I was brought up in, it's important to share my grandparents' stories. All four of my grandparents were contemporaries of Cesar Chavez. Both of my grandfathers played pool with Cesar as young adults. In particular, Cesar was a lifelong friend to my maternal grandfather, Francisco "Frank" Rodriguez.
Our families became active in community organizing as a means of achieving social justice for their particular struggles. During the late 1930s and early 40s, my four teenaged grandparents had left Texas and Los Angeles in pursuit of migrant crops and cannery work in San Jose, California. It was called the Valley of Heart's Delight.
My grandfathers and great uncles served in the military, and started families during the WW2 era. In fact, Cesar joined the military because of my Papa Frank's relative success after serving in the marines during WW2. And like many Mexican American families, we worked, went to school, went to church and lived in el barrio. Our barrio was called Sal Si Puedes—Spanish for "get out if you can".
In the 40s and 50s the Rodriguezes and their extended families worshipped at what is known as the Sal Si Puedes church, or the Templo Bautista Mexicana. The Rodriguezes are a singing family, and all family members have sung in the choir or served as a song leader (back then we didn't use the term worship leader). There are also many ministers in this branch of the family. Protestantism goes back to my 3rd-great-grandfather, Papa Manuel Robledo.
At this same time, the Garcias attended Five Wounds, which was where my dad received his first holy Communion and confirmation into the Catholic Church. Then from about 1952 onward, they attended Our Lady of Guadalupe. My paternal grandmother, my "Nana", Martha Diaz Garcia, was a devout Guadalupana. For context, Guadalupana Societies are Catholic religious organizations that provide leadership opportunities in social issues. In particular the cause of the Guadalupana Organization of Our Lady of Guadalupe is to increase devotion to the Virgin of Guadalupe. My Nana's faith formed us spiritually, as she was dedicated in her practices, but it also created a rhythm of seasons and gatherings in our family that keeps us close even to this day.
The most significant church in Sal Si Puedes may just be Our Lady of Guadalupe, which was my Nana Martha and Tata Tim Garcia's parish. It is just across the street from the Chavez family historical home. Our Lady of Guadalupe was a womb for the Chicana/o movement. The community was organized there. They received Communion there. They worshipped there. The church's pastor, who was the pastor of the Chavez family, was Father Donald McDonall.
My parents, as a result of these locations, were in the middle of the civil rights movement. Protests, rallies, walkouts, and boycotts were common demonstrations. Along with this, Chicano theater or teatros were part of the rallies and boycotts, sometimes in the field.
The music of Flor del Pueblo—the folk group founded by my parents—was a natural outgrowth of the Chicana/o movement's demonstrations and the short skits performed in Chicana/o theater. Oftentimes Flor del Pueblo were showcased in a Flor y Canto, which in the context of the Chicana/o movement was a gathering with song, spoken word and prayer. Flor y Canto can be traced back to the Aztec nobility's poetry. In Nahuatl, it is called "In xochitl, in cuicatl," which can be translated as "flower and song". Many interpret this to mean poetry, but it could also mean inspiration, breath, sacrifice. There is also a Catholic Latino format of Flor y Canto that references singing together, or a worship service.
In our Chicano context, there's a syncretism of Catholic mass and indigneous song or poetry. The end result of a Flor y Canto gathering would be community organizing for social justice issues and to take action. In other words, it was an invitation to embodiment. This became the carrier for our art, our culture, our various faith traditions, and our fight for justicia. Experientially, it was diverse and displayed our mestizaje.
There were particular songs that I always thought of as huelga songs, but they were actually Catholic or Baptist hymns. Prayer and fasting often dictated the direction of the farm worker movement. Practices of pilgrimage helped guide the nonviolent action taken, specifically during the 1966 march from Delano to Sacramento.
For many social justice movements, we tend to think of the leaders as stand alone figures. But this is not true, and it's not what Cesar would want you and me to think. He was a very humble leader, something I reflect on often in a world full of leaders who are quite the opposite. Cesar came from a community, which happened to be the same one my family lived in.
La Huelga was about the collective liberation of the poor and the migrant. And not just the Mexican or Mexican American. Cesar was a proponent of what Martin Luther King Jr. coined as the "Beloved Community". At the center of this justice movement was a model based on the Sermon on the Mount, in particular Matthew 5. The beatitudes were central to the nonviolent struggle. This was displayed daily by my grandparents and parents, and my mother especially, who taught me how to love my neighbor as myself.
Simple justice and equity for the poor were ideals modeled by my paternal grandparents, Nana and Tata Garcia. I lived in their home for the first four years of my life, and we shared the duplex with my parents, my baby sister Frida, my three aunts, my cousin Rob, and my great grandfather Ramon, who was a Yaqui child soldier from Guaymas, Sonora, Mexico. The Yaqui have survived over 500 years of oppression, colonialism, cultural cleansing, and genocide. As a result of this trauma, I do not know Yoeme, the Yaqui language, or any other tribal languages from our indigenous heritage.
From the ages of four to seven, my family lived in the Victorian parsonage of the Baptist church—Primera Iglesia Bautista Hispano Americana—on North Ninth Street in San Jose, California, that our family had built in the 60s. Rehearsals for Flor del Pueblo were usually held at the Primera parsonage. My parents, my tios, and other band members would stay up and drink cafe con leche. But during the week they all held regular 9-5 jobs as small business managers, teachers, government employees, and assistant librarians.
My maternal grandparents, Frank and Elizabeth Rodriguez, were deacons at Primera, sang in the choir, the quartet, and served on the board of trustees. They were small business owners, in addition to their work for the UFW running the offices in San Jose and Delano, which was the headquarters known as The Forty Acres. Elizabeth also served as the President of the Hispanic Caucus of the American Baptist Churches of the West in the late 1970s. She was the first woman and non-pastor to hold this office. I'm indebted to her example of leadership as my Grammy, my best friend, and my mentor. Because of the Biblical values and practices modeled to me, I learned to be a disciple of Jesus at the feet of my grandparents and parents. Both of my grandmothers, like many Chicana/Latina abuelitas, practiced giving us la bendcición, or the blessing. The bendicion is very important in our culture, and it very much became a "don't leave home without it" in our family, especially as my grandmothers grew older and I saw them less because we lived further away. Sometimes it was a quick "En el hombre del Padre, del Hijo, y del Espíritu Santo…" Sometimes it was the Priestly Blessing from Deuteronomy and a song or a prayer request. Like a short flor y canto, or even a full blown service, the benediction became a place of encountering the unconditional, just, and friendly love only found in an abuelita.
---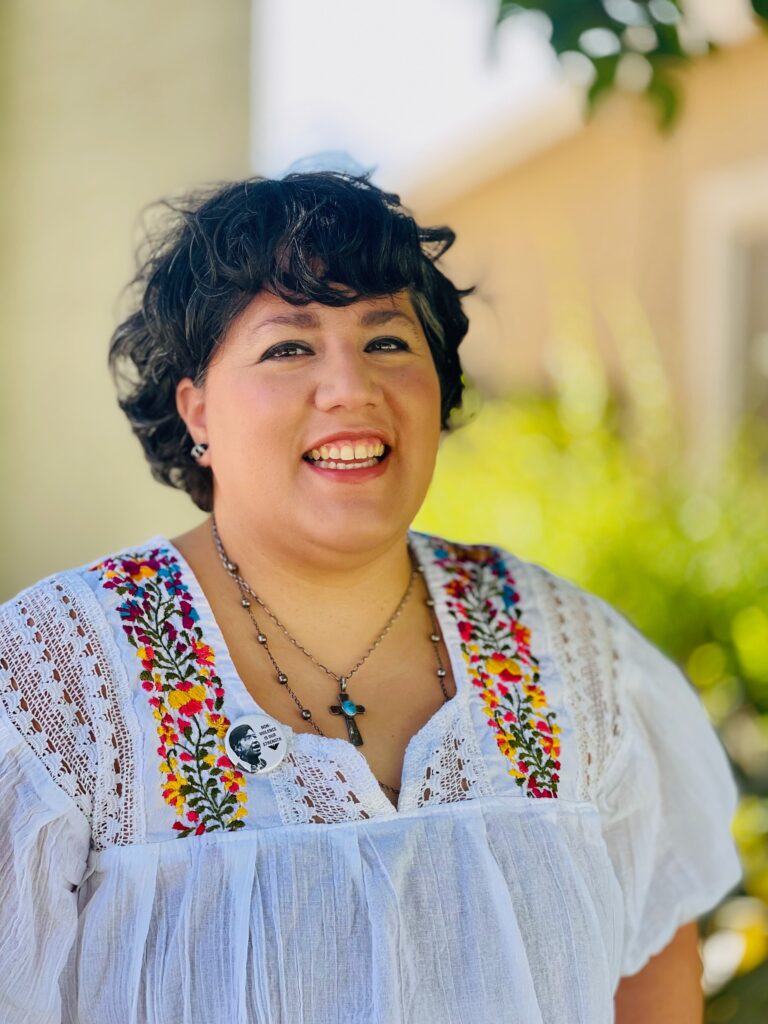 Elia Maria Rotch grew up in the Brown Church and the Chicana/o movement. She is a former care pastor originally from the Bay Area living in Sacramento with her husband and two children. She loves writing, history, the arts, cafecito, and walks near the water.
---
This entry is part of our blog series "Rooted: Elders, Ancestors, and Collective Memory". As BIPOC communities, our faith has been deeply formed by the experiences of our people. Our communities have developed ways of knowing and understanding God through suffering, lament, joy, and hope. Our stories, narratives, and faith practices developed over generations are rooted in context, cultural values, and the struggle for justice. Let's learn from one another and develop a collective memory that leads to a prophetic imagination.
The views and opinions expressed on the Chasing Justice Blog are those of the authors and do not necessarily reflect the official policy or position of Chasing Justice. Any content provided by our bloggers or authors are of their opinion and are not intended to malign any religion, ethnic group, club, organization, company, individual or anyone or anything.