Has anyone asked you yet; "What are you giving up for lent?" This question emphasizes the highly individualized view of lent, and of faith, that has developed in much of western culture. Sacrifice, fasting, and lent all share a common theme of solidarity. During this season especially, we are being drawn into a collective being. Unlearning the individualization of sacrifice is vital to entering into true union with God, our community, and ourselves.
For forty days, Jesus experienced sacrifice and temptation in the wilderness. In this act, Jesus is both the perfect example of solidarity while calling us into oneness with him. Jesus is not acting on behalf of himself. We see Jesus living a life on behalf of a greater community–a community with God and with others. Jesus is living collectively with God and the Spirit. When tempted, Jesus responds with three simple statements; "Man shall not live on bread alone," "Worship the Lord your God and serve them only," and "Do not put the Lord your God to the test." These simple responses exemplify a relationship of solidarity with the Creator we can access today.
Living in solidarity with the Creator equates to knowing your worth. In case you haven't heard it lately: you are worthy. Nothing you do, say, or become can ever change that. Consequently, knowing your worth means there is nothing, but God, worthy of your worship. You remain sustained by the work of the Creator in all circumstances, and there are no tests of faithfulness. Solidarity with the Creator is not easy, especially in a world full of distractions; it's a continual commitment requiring attention and care, but it is an essential step in experiencing togetherness within a community.
Jesus' sacrifices during this period of waiting and on Good Friday are, at their very core, about standing in the gap for those on the margins, those overlooked, and systematically oppressed. Let us remember that Jesus lived and died as an enemy of the state because of his stance with those at the margins. While our consequences might not be as dire, the calling remains the same. Fasting is an act of solidarity. When we intentionally give of ourselves, it allows us to stand collectively with those on the margins and enter into another's suffering. Fasting is not a prerequisite but it is only effective when it is not individualized. Sacrifice is not intended for any sort of personal benefit or to prove worth. It is not about us at all; it is always about the other.
The season of lent and every act of sacrifice within it is a microcosm of the liberation we must continue to move and stand in with colonized, historically disinvested, and often unseen brothers and sisters. It is more than simply acknowledging those who are in harm's way, but joining in with their struggles in a way that truly elevates their pain.
Our sacrifice is not symbolic, nor is our solidarity. They are designed so that we may all be fed, housed, and flourish as one. This is what we see from Jesus, and it is to what we are called.. A life of solidarity freely gives for the betterment of the disinvested without question. When we live as a community, we gain an intimate understanding of the pain others experience and discover ways to stand in the gap.
By no means is this a one way street. For many, it can be just as, if not more, difficult to accept this collective existence as it is to contribute to it, but the solidarity Jesus invites us into through lent includes receiving freely the love of another. Solidarity works best when everyone participates. And when everyone participates, a collective community is absolutely unstoppable.
Throughout lent, take time to examine your own life; who can you stand with and who is standing with you? Where are there folks whose voices are unheard or minimized and how can you help amplify them? Where does power show up in your workplace, local government, church or community? Begin making shifts to empower the collective over the individual, trusting that together, we can enact a more just reality today.
---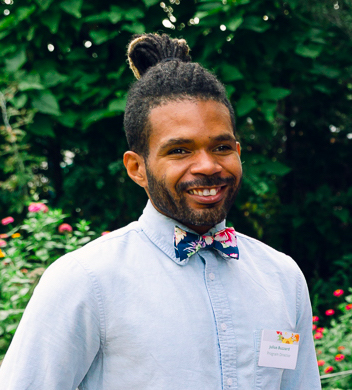 Julius Buzzard is a food sovereignty and environmental justice advocate living in Ypsilanti, MI with his wife and daughter. Julius works for a nonprofit, Growing Hope, and has a deep passion for representing, amplifying, and collectivizing disinvested voices in his community. He believes this is a vital step in the abolishment of oppressive systems at every level.
---
Our lent blog series celebrates the life, death, and resurrection of our liberator. We enter the forty days understanding that it is one of solidarity. Chasing Justice will be guiding our community through the lent with Instagram posts for sharing with friends and guest blogs by BIPOC authors.
The views and opinions expressed on the Chasing Justice Blog are those of the authors and do not necessarily reflect the official policy or position of Chasing Justice. Any content provided by our bloggers or authors are of their opinion and are not intended to malign any religion, ethnic group, club, organization, company, individual or anyone or anything.