"How long, oh Lord…how long?" The depths of my soul cry out in a deep trembling ache. The cry first appeared on the day I was born, shortly after my first breath in India. This pain was birthed through the unwelcomed separation between my young Birth Mom and my little newborn self. My Shalom was shattered. These words don't come close to what this separation has held in my bones. I ask God, "How can this be real? How can you allow such gut-wrenching pain for someone who has just taken her first few breaths?"
I lost my first family before I could call them by their names: mom and dad.
A child is not meant for nor capable of holding such a severe loss. What has been left is a scar that is unseen to the visible eye and a heart that bears the grief of losing her primal connections.
But then, another shattering.
I was adopted by a family in the Midwest. My childhood was filled with deep trauma, neglect, and abuse. There was no love, kindness, or care offered to me. I created safety and comfort for myself through creativity and brilliance.
Living in a house with five other people, whom I shared a last name with and yet didn't physically mirror me, while enduring insidious abuse took a toll on my body and soul. Not only did no one reflect my skin tone in the place where I lived, no one in my small Wisconsin town mirrored me either. "How could this be…how could I have ended up here? Was this the plan? Why do people celebrate and praise my parents for this and why do they make sure to introduce me to those in the community, as 'the one they adopted?" My mind didn't have the ability to grasp what was happening to me, and the why behind it.
Nothing says family like a family photo.
As my eighteenth birthday approached, I knew that I was on the verge of being "kicked out". I knew this because my adoptive parents blatantly told me this the first time when I was thirteen. A couple months before my eighteenth birthday, my family got pictures taken for our church directory. I was told that we'd have our pictures taken on a Thursday so I requested off of work for this. As I rode in the back seat of the car, (the only place I was allowed to sit), and my adoptive mom drove me to church, I wondered where the rest of my family was. We arrived in the parking lot and from the front seat came the only words of our twenty minute drive, "Get in there" (signaling I should go into the church). I walked into the church by myself and waited for the photographer. When he checked me in through his scheduling book, he asked me my name and I told him, and he looked up and with a puzzled look on his face, he said, are you a part of the "S" family? I replied "Yes". And his face went from puzzlement to shock, then uttered the words, "Your family came in earlier this week and got their pictures done". My heart sank and tears started to fill my eyes. I said, "Just take this picture". And so, he did. This is how I knew I was not a part of this family and it was becoming brutally painful to hold this truth in my heart.
I approached my eighteenth birthday and found myself, yet again, without a family. Different circumstances yet orphaned again.
To lose one set of parents feels like a crushing blow to the heart, but to lose a second set of parents is cruel and unjust. To be family-less twice and still living without is where I currently cry out "How long, oh Lord. How long"?
Our culture and world is centered on family. We are all created to share in this kind of connection with one another. To not get to participate the way I was created to, feels so unfair. I hate it. I want to flip tables (just as Jesus did in the temple) over the injustice in my early moments as a newborn in India, and as a child, and young woman here in America. It is cruel and wrong for myself and anyone to live without a family, and so I deeply lament.
Over the past couple years, I've asked some friends and mentors, how long can someone survive without a family on this side of heaven? I haven't heard an answer that has resolved the pain but have witnessed faces which hold empathy for my grief and longing. I wait upon an answer and, somehow, I wait with a defiant hope of a miracle. A wise woman once told me that you don't need hope unless you have known something of death. It's true, I have known death. Twice. And yet, I still have hope through naming and claiming with expectation and child-like faith.
This child-like faith shows up every birthday as I celebrate and mark the day by blowing out candles and making a wish. It also shows up every time I get a glimpse of a shooting star. Whenever someone asks what's on my Christmas list, the words that surface are all the same. My wish has always been and continues to be; I want to be a part of a family.
This year I have chosen not to wait alone. In my longing, grief, and pain, I have invited others to join me. I asked a group of friends via a text group to join me in holding hope by crying out to the Lord on my behalf. They set timers in their phones to pray daily for me and have sent encouraging texts to remind me they are walking with me in this. Though none of them have walked in my shoes, I know that I have a group of women from all over who are fiercely committed to lamenting, waiting, and hoping with me.
My longings are birthed from my fierce belief that the Lord is capable to do exceedingly abundantly above all that I ask or think according to the power that works within us.
How long until I have a family, oh Lord?
How long until the day when I no longer need to ask a friend to join them for a holiday. A day when I will have consistent plans and not spend so much time or energy trying to figure it out or risk hearing, "Sorry, it's not going to work to have you join our family gathering because of…."?
How long until I get to be in a family photo with people who collectively share a last name?
How long until I no longer sit alone in church on a holiday with a wad of used Kleenex that has held an hour of tears from taking in all the families sitting together?
How long shall it be until I get through the song "Angels We Have Heard On High" without my voice cracking with grief and tears of pain streaming down my brown toned cheeks?
How long till I am able to say the words, "We're taking a family trip" or "We're doing a family night tonight"?
How long will my tears be my food for both day and night?
How long, Oh Lord? How long?
God, I know you see me. It says in Genesis, "You are the God who sees me" and I have no doubt about this. I wonder though, why have you not fulfilled this desire and core need in my life? I cry out to you as an Omnipotent and Omniscient God, with a breath full of expectancy. Hear my cry oh Lord. Redeem and restore this part of my story.
Advent reminds me that my pain is not my forever and Jesus is coming. In the darkness and through my grief…I long for Him and a family with expectancy and hope.
---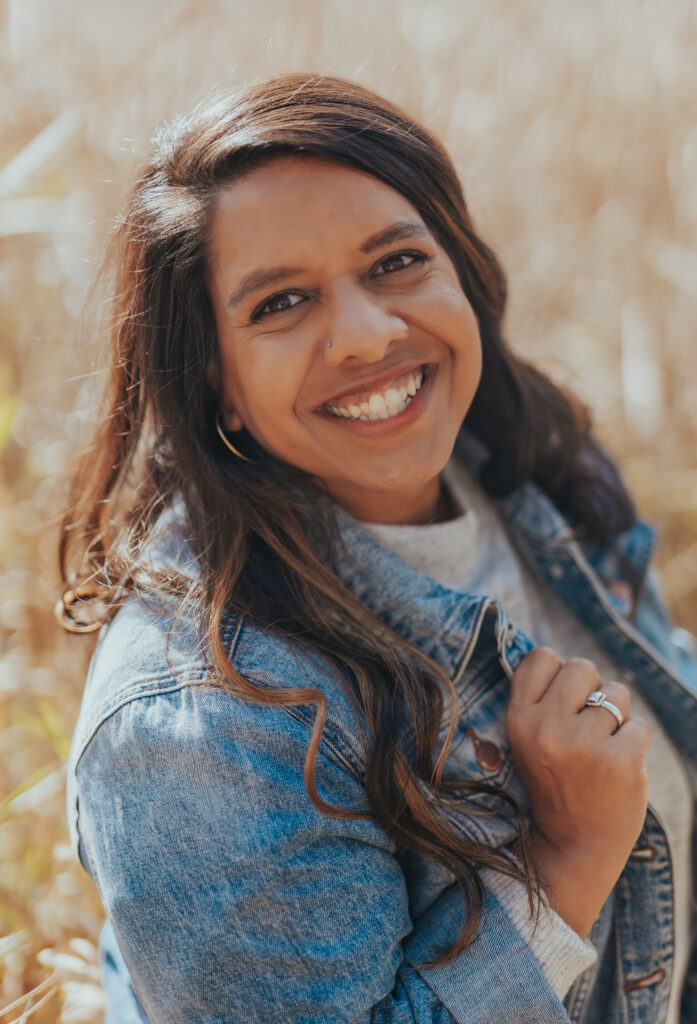 Sandhya Oaks is a ministry leader, speaker, and advocate. Born in India and adopted as a Transracial Adoptee in the Midwest, and serves full time in campus ministry. She is the Co-Founder of The Adoption Triad, a social media group that provides community and resources to those connected to Adoption and Foster Care. She is trained in Narrative Focused Trauma work and is a Spiritual Director.
---
This entry is part of our blog series, "Longing: Advent for Faithful Activists". Advent, which means "coming", is a season where we acknowledge that things are not as they should be. We are promised that this beautiful creation of which we are a part of will be restored. In the meantime, there is the chaos we experience. It reminds us that God's Kingdom is now but not yet. Chasing Justice will be guiding our community through this Advent season with the following weekly resources:
Sunday Instagram Lives inviting us into the week's themes and lighting of the candle.
Five-day weekly devotionals exclusive to Patreon with reflections, practices, and songs.
Instagram posts for sharing your journey with friends.
Guest blogs by BIPOC authors who will guide us as faithful activists.
The views and opinions expressed on the Chasing Justice Blog are those of the authors and do not necessarily reflect the official policy or position of Chasing Justice. Any content provided by our bloggers or authors are of their opinion and are not intended to malign any religion, ethnic group, club, organization, company, individual or anyone or anything.