The Chasing Justice Book Club will serve the purpose of highlighting BIPOC voices that are doing the courageous work of sharing their experience and expertise while supporting the authors. Join us in the CJ Book Club private FB group for weekly discussion topics and discourse. The CJ Podcast will also host a monthly Book Club episode with the author to discuss and answer your questions. Enjoy the following excerpt from our September book club selection Learning Our Names: Asian American Christians on Identity, Relationships, and Vocation sponsored by InterVarsity Press. Enjoy 30% off your book order and free shipping with code CJPOD.
---
From the chapter "Knowing Our Names" By E. David de Leon
There's a well-known Tagalog proverb that goes like this: Ang hindi lumingon sa pinanggalingan, hindi makakarating sa paroroonan—"A person who does not know where they came from will never reach their destination." Aside from titles, nicknames, and labels, our actual names tell a story as well. Our names speak to our past, present, and future, from where and from whom we have come. For some of us, this is a simple connection. (Asian face? Spanish last name? You're probably Pilipino!) For some of us, like my friends who are Mixed or are transracial adoptees, this is a more challenging matter that points to a complicated history. The wisdom of this proverb shows us that there is no moving forward without looking back. Understanding our names helps us do this.
Our names and our past. In 1521 Spain had first come to the Philippines and came to dominate the archipelago by means of what Genaro Diesto calls the "unholy Trinity" of military rule, education, and religion.1 Over three hundred years later, on November 21, 1849, a decree was made by the Spanish governor- general of the Philippines, Narcisco Claveria y Zaldua, that Pilipinos were to choose family names from a book compiled by the Spanish colonial government, the Catalogo Alfabetico de Apel- lidos (The Alphabetical Catalog of Last Names).2 As many Pilipinos had by this point converted to Catholicism, many had begun to adopt the surnames of Catholic saints. It was common for members of the same family to each have different last names, as the selection of their last names was described as "arbitrary" by this 1849 decree. In an attempt to establish some order for the sake of government record keeping and taxation, families were ordered to choose a last name from the catalog (containing Spanish words and names, as well as some Pilipino words and Indigenous last names) if their family name had not been in use for at least four generations. Names were literally thrust upon Pilipinos. Even the name of the Philippines itself was named after King Philip II of Spain.
Why this history lesson? Because names, our very literal names, help us make sense of our past. Names help us remember stories. With our names we remember the journey of immigration to a foreign land—a land in which my face plus my name are a cause for confusion. My Spanish last name reflects my family history that stretches from the provinces of Luzon to the streets of Metro Manila under generations of Spanish and American colonialism. In my last name, I recall the complexity of the Christianizing of the Philippines, and the ways that American Methodist missionaries and Spanish Catholic friars provided the religious scaffolding for both sides of my family that affected my Christian faith in profound and incomprehensible ways. My last name tells me that I come from Elmer and Elvira, Africa and Rosalio, Florentina and Amos, and many countless names that have faded from memory. My name reminds me of the connectedness to numerous stories that preceded my own, and the histories that my family's lives currently inhabit. These stories contain chapters marked by dysfunction, triumph, disappointment, survival, poverty, plenty, war, hope, displacement, and joy.
Our family names clearly point us to the past, but our given names speak insight as well. They may say something about the preferences of our parents, what they were into at the time they named us. Sometimes our names are reflections of the hopes that our parents have for us. Names act like scaffolding for our lives. In this regard, names can be aspirational—a sort of prayer of intercession on our behalf, leading us to live into the meaning or reality of our names.
Our names, whether their origins are clear or obscure, provide for us an opportunity to look back and make meaning. With this filter, we are able to make sense of the tensions and conflicts of our current moment. Looking back helps us locate ourselves in our family's story and in God's story. This book is an opportunity to explore the power of names and the stories that come with them. Our authors represent vastly different expressions of Asian American life. While our own experiences have no doubt left out the particularity of others' stories, we invite you to step into our histories and reflections, trusting that the shared threads will stir up something in you.
Excerpted from Learning Our Names by Sabrina Chan, Linson Daniel, E. David de Leon, La Thao. Copyright © 2022 by InterVarsity Christian Fellowship/USA and Linson T. Daniel. All rights reserved. No part of this excerpt may be reproduced or reprinted without permission in writing from the publisher.
---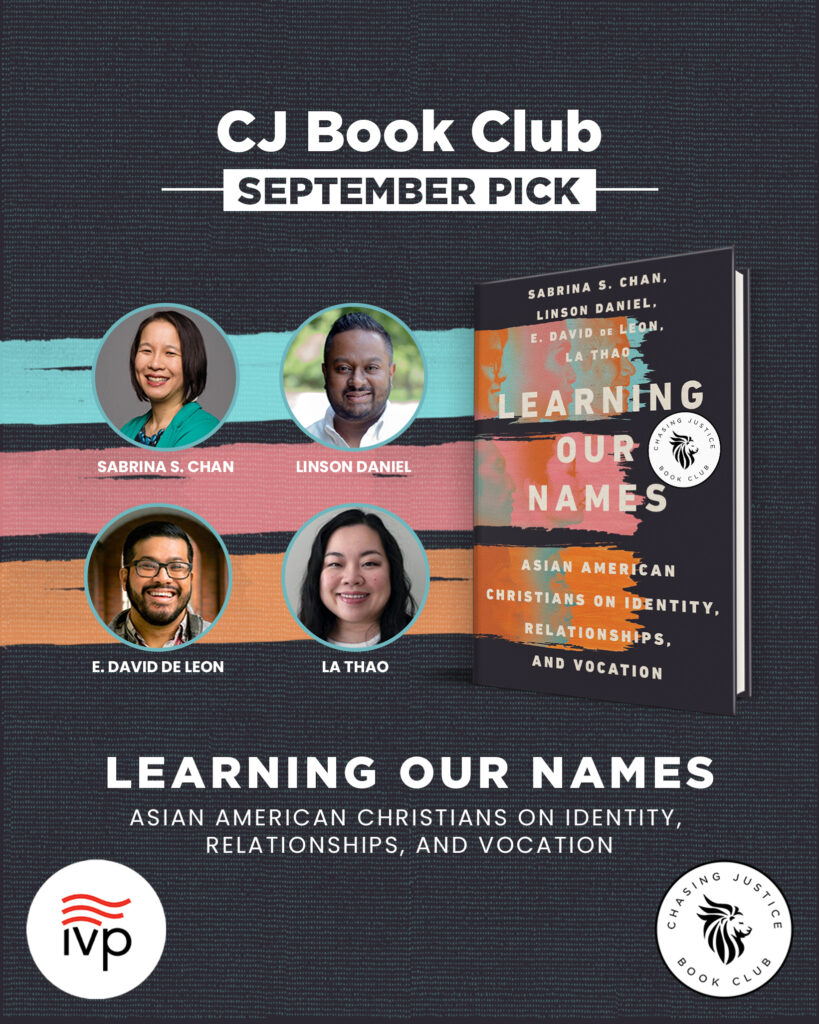 ---
The views and opinions expressed on the Chasing Justice Blog are those of the authors and do not necessarily reflect the official policy or position of Chasing Justice. Any content provided by our bloggers or authors are of their opinion and are not intended to malign any religion, ethnic group, club, organization, company, individual or anyone or anything.